Students, Faculty Gather at Old Main in Solidarity with the University of Missouri
the events happening at the University of Missouri
.
The gathering at Old Main was put on by students in multi-cultural organizations such as Black Caucus, BLUEprint, the Black Male Empowerment Group along with the Paul Robeson Cultural Center, who recognize that the issues occurring at Mizzou have happened at Penn State, and as a community, Penn State seeks to fight against those injustices as well as recognize them throughout the nation.
"I'm just tired of seeing black students looked down upon by other races. Not even just black students but minority students in general," said Teah Hughes (freshman – pre-med).
The diverse crowd, dressed in all black, gathered around while students shared poetry, words of encouragement, as well as personal stories of their experiences on campus.
Notable faculty members in the African-American Studies Department were in attendance, as well as Damon Sims, Vice President of Students Affairs, and Marcus Whitehurst, Vice Provost for Educational Equity.
"There are some similarities between us and Missouri considering we're both PWIs [Predominately White Institutions] it's good to know that this event didn't happen here. It's kind of inevitable to escape racism on campus but it's just good to know that we have the support here," said Beryl Bannerman (freshman – Biology). 
One student, Jerrie Johnson (senior – theater), recognized the importance of having  a supportive faculty here at Penn State.
"It just shows that that is the thing we need to pay attention to and embrace. In Missouri, they don't have that, and that's the biggest part of the problem. These students [at Missouri] are standing up alone against other students while faculty members  are still telling them to come to class when their life has been threatened. At Penn State, at least we know that the teachers and staff will have our back. When we did the demonstrations in December we wanted to do a peaceful protest in solidarity and we got a bunch of racial hate online. President Barron came out. They don't have that. We have that. Our president isn't a person of color, and he know that this meant something. I'm glad that we have the faculty that care," Johnson said.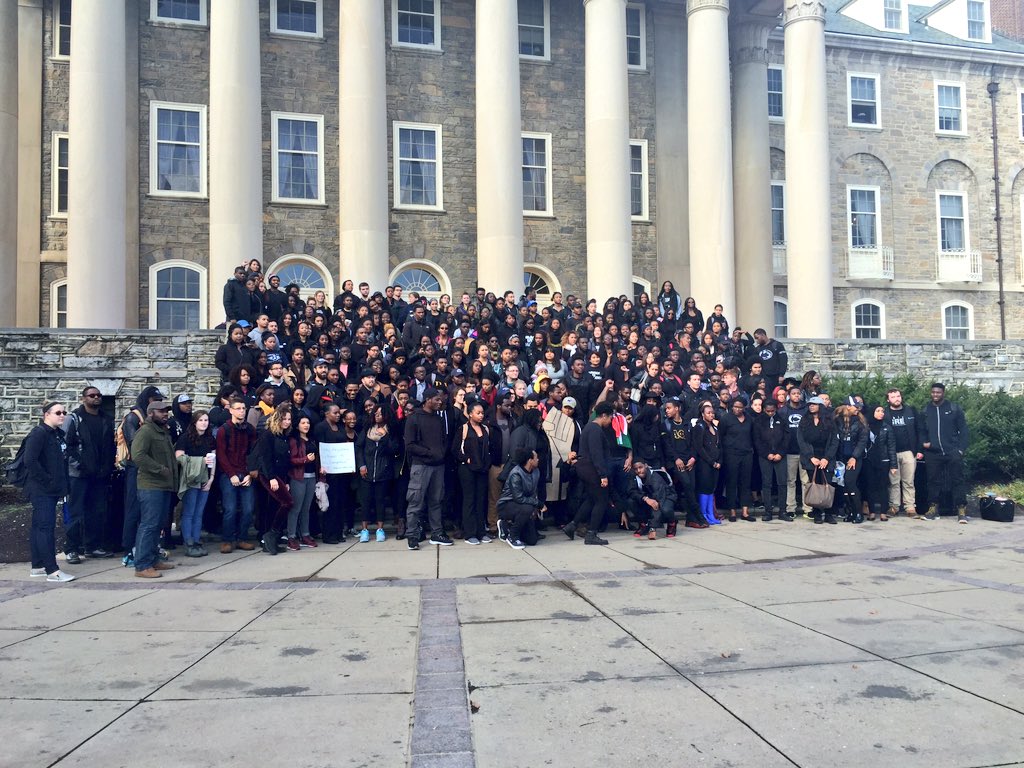 For the students at Penn State, the activism doesn't end here. The student organization Black Caucus, the umbrella organization for all minority students, student organizations, and student groups on campus has plans to write letters and notes of support to the students at the University of Missouri. They plan to meet Monday in the Paul Robeson Cultural Center from 11 a.m. to 4 p.m. There will also be contact information for local senators and representatives in Missouri to send letters urging their support as well.

Thursday afternoon, students and faculty gathered on the steps of Old Main in solidarity for